Accounting outsourcing Russia is customized to address the needs of medium businesses. Our accounting outsourcing team in Russia delivers solutions around systems, technical infrastructure and practices of the medium business. Our accountants run accounts payable processes, accounts receivable processes, reconciliations, month end/year-end closing, financial analysis and management reporting. Our services range from simple cash based update of books to a full range of accounts payable, accounts receivable and general accounting services.
Businesses face multiple constraints that need to be factored in while transitioning work to Russia. These include lack of supervisory staff, undocumented and unstructured processes, busy schedule of owners, inconsistent accounting practices and sometimes inaccurate historical records. Our expertise in accounting outsourcing in Russia helps us handle and manage these issues well. We maintain a dedicated team of business accountants, who have a broad range of accounting skills and are not function focused. For instance, an accountant working with large companies may have depth of knowledge in a specific accounting function such as accounts receivable or accounts payable and may have good expertise in following a well laid out client process. However, he/she may not have accounting expertise in handling scenarios where substantial clean-up of historic records is required, where an accounting process has to be set-up from scratch, or in scenarios of limited data. 
Finally, we customize a package of accounting and finance outsourcing services that is competitively priced while taking the administrative pains out of running your business. Your customized outsourcing plan might include any or all of the following: 
General accounting support. We process accounts payable, accounts receivable, cash receipts, credit card transactions, payroll and retirement contributions and maintain the general ledger.

Month-end accounting support. We provide support to complete the month-end close procedures, from bank and credit card account reconciliation to journal entries.

Tax compliance. We simplify tax compliance by assisting with preparation of monthly and quarterly sales and property tax returns.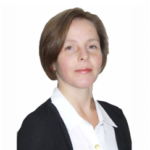 Irina was employed by Grant Thornton Russia from 2005, where she managed IFRS audit, tax review and agreed upon engagements related to the internal control and other risk management areas. I

n 2012 – 2018 she acted as a CFO of Terranova group of companies. She graduated from the Russian Academy of Economics named after G.V. Plekhanov with distinction, awarded a Russian auditor's certificate and ACCA DipIFR

Business accounting requires a specific skill set and experience in accounting outsourcing field. We have both experience as well as skills to make outsourcing accounting work for the medium business.

 

We help businesses to cut costs, adopt flexible staffing models, improve processes and become more competitive.